Welcome to Village of Norris City

Village of Norris City… A Great Place to Live!

In the Village of Norris City, we are defined less by boundaries on a map than by the sense of shared values our residents hold dear. Small town values, guided growth, preservation of historical, cultural, and natural heritage are just a few of the core principles that makes Village of Norris City a wonderful place to call home.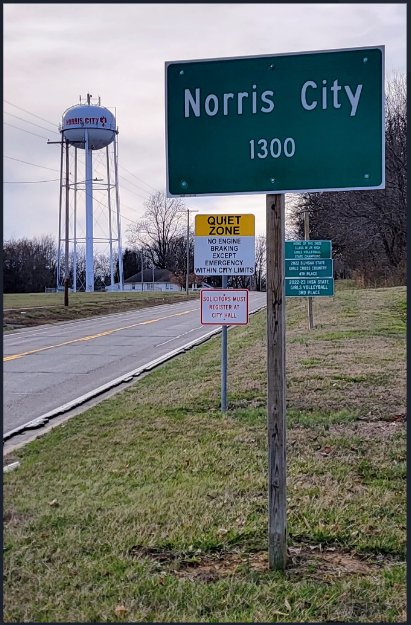 Welcome to Norris City
Featured News
Trash Reminder
11/2/2023
Just a reminder:
Thursday is trash pickup day. After your trash is picked up, please roll your containers back off the roadways. Also, trash not placed in the bin will NOT be picked up. NO large items, NO construction materials, NO furniture etc. will be picked up.
Playground Grand Opening
9/25/2023
Playground Grand Opening
October 14, 2023
10a.m.-2p.m.
Free hot dogs, free cookies, free waters, free chips, free cotton candy, & free police goddie bags,
Accepting Sealed Bids for Personal Properties
9/6/2023
The Village of Norris City is accepting sealed bids until October 10, 2023 fir the following personal properties:
-2002 Ford F-250 with Snow Plow with 105,000 miles
-2010 Jeep Laredo 4x4 with 109,000 miles
Vehicles can be viewed at the Sewer Plant on Indian Creek Trail Monday-Friday 8:00...